Everything You Need to Know About Hosting a Drum Circle
Feb 23, 2023
Hosting a drum circle can be an exciting and rewarding experience, especially if you have the right planning and materials in place. From finding the right location to leading activities, this guide has everything you need to make your drum circle unforgettable.
---
FAQ: Everything You Need to Know About Hosting a Drum Circle
1. What is a drum circle? A drum circle is a communal gathering where participants play drums and other percussion instruments together. They're usually not restricted to specific cultural or musical traditions, allowing for a diverse blend of rhythms and beats.
2. How does a drumming circle differ from other musical gatherings? Drumming circles focus primarily on rhythm and beats, unlike other musical gatherings which might emphasize melody or song. The emphasis is on group participation and connection through the beat.
3. What are the benefits of attending drumming circles? Drumming circles offer numerous benefits, including stress relief, community building, improved rhythm skills, and a boost in creativity.
4. What do I need to host a drum circle? Hosting a drummer circle requires a location, drums and percussion instruments, chairs or blankets to sit on, and a passion for rhythm! It's also helpful to have a drum circle facilitator or leader to guide the session.
5. Can anyone participate in a drum circle? Absolutely! Drum circles are inclusive events, welcoming everyone from beginners to professional drummers. It's all about the communal experience of drumming together. Here's a quick guide for first timer's!
6. How can I find drumming circles near me? You can search online directories, local community boards, music stores, or social media groups dedicated to drumming and percussion activities in your area.
7. Can I bring my own drum to the drumming circle? Yes, many participants prefer to bring their own drums to drum circles. However, it's always good to check with the host to ensure they have space and that all types of drums are welcome.
8. How long does a typical drum circle last? The duration of drum circles can vary, but they typically last anywhere from one to three hours. Some may even go on for longer, especially during special events or festivals.
9. What types of drums are popular in drumming circles? Popular drums include djembes, doumbeks, congas, bongos, frame drums, and many more. The variety of drums contributes to the rich tapestry of rhythms and beats.
10. How do I know if my drumming circle is successful? A successful drumming circle fosters a sense of community, connection, and joy among its participants. If you see smiles, stress relief, feel positive energy, and hear harmonious rhythms, you're on the right track!
What Makes A Great Drum Circle?
A well run drum circle can be an incredibly enjoyable and rewarding experience for all involved.
Group drumming brings a unique feeling of liberation, creativity, relaxation, and joy all in one!
When I attend my favorite circles there is always a friendly atmosphere with respect being shown between the participants and their drums becoming almost like part of a conversation.
Often there will be someone who leads the group and sets expectations during the gathering. On the flip side, some drum circles can leave much to be desired.
The reasons for this vary; however, what puts me off most are heavy substance use/intoxication, lack of listening among individuals, and those who solo endlessly without regard for those around them.
Though this can happen, it doesn't have to! To increase the chances that your participants have an excellent drum circle, ensure that proper protocols are in place such as setting expectations and encouraging listening between members.
Let's start with logistics.
Where Should You Have a Drum Circle?
Of course if you're lucky enough to have a beach like the good folks at the Siesta Key drum circle then go for it!
Fortunately, even without a great beach, drumming circles can happen most anywhere like a local park, your basement, and even your local church all purpose room.
But what should you be thinking about before you arrange the location for your circle drummers?
Here's a handy checklist to reference.
Drum Circle Location Check List
✅ Is it OK to make loud sound there? (Make sure first!)
✅ How many chairs might I need? (Always have a few more than you think you need or ask others to bring their own)
✅ Do participants know to bring their own or are you providing all of it?
✅ Is there adequate lighting, Heat / AC / Restrooms?
✅ Is there parking available? Where is it?
✅ Is the space wheelchair accessible?
✅ How many instruments will I need?
✅ Will anyone else bring extra instruments?
✅ Who is promoting the event and how will it be promoted?
✅ Who is willing to greet participants as they arrive?
✅ Who is willing to help set up and load out?
✅ Do I have name tags markers and pens?
✅ If I am charging money for the circle, or asking for a donation, how
much will I charge? Who is in charge of collecting money?
Taking a few moments to consider your group's comfort and convenience will go a long way to increasing enjoyment!
But what about setting the right atmosphere for the drum circle?
Here are some questions to consider.
Answer These 5 Questions Before Leading Your Next Drum Circle
If you're hosting the circle and perhaps leading it as well, it's important to ask yourself the right questions before bringing people together to drum.
1. What is the purpose of my drum circle?
Are you choosing to lead a drum circle simply to enjoy drumming with others, or are there other reasons? If so, what are they?
Having a clear purpose for your drum circle event makes it more likely that your participants will experience it. Some examples include drumming for stress relief, social connection and fellowship, community building.
And yes, your drumming circle can have more than one purpose.
2. Am I willing to guide those who know nothing about drumming (and be patient with them)?
I've found that there are many people who are interested in drumming AND who are reluctant to try.
I find that the more I reassure beginners that:
they're "in the right place"

that our circle is "worry free'

and that if they fell they've made a mistake to "smile and keep going"
Unless I know everyone at the drum circle, I'll always offer a quick beginner's drum lesson to help avoid hand injury and empower the person with good sounding drumming technique.
3. How much time am I willing to invest into creating & maintaining what I create?
If you want to create a drum circle that will maintain its momentum over the long-term, it's important to take proactive measures like networking with potential participants, promoting your events effectively, and learning new rhythm games or exercises.
►► Grab My FREE "How To Start A Drum Circle" mini course for help with that!
You should also strive to make each circle experience unique in order to keep people coming back. Doing these things can help your drum circle survive and thrive for years!
4. What benefits, if any, do I want participants to receive?
Related to your drum circle's "purpose" is to consider what you hope people get out of attending. Though we can't really control how a person experiences things, we can make it more likely by being intentional and communicating that intention to the group.
For example:
"I want people to feel better when they leave than when they arrived"
"I hope participants make friends with each other."
Remember, before choosing what to do with their free time, most people are thinking: "What's in this for me?"
If you clearly communicate some of these benefits ahead of time, you make it more likely that you'll offer them value.
5. What benefits, if any, do I want for myself?
It's perfectly acceptable to "want something" out of your circle.
In fact, I recommend it.
Maybe it's community...
The sheer euphoria of drumming...
The brain building benefits
More fun…
Or even income…
Whatever it is, be honest with yourself and then align your actions towards that end.
If there's "nothing in it for you", it may be challenging to make your drumming circles sustainable.
Just remember that while charging money for your offerings is possible...
Doing it too early in your drum circle "journey" before becoming proficient can be unhelpful.
And that leads us to some the most important questions: where can I learn how to start a drumming circle? What are some drum circle games and activities? What skills do I need to be successful?
Are You Ready To Start Your Own Drum Circle?
By following my blog, you'll pick up a ton of great tips on drumming circles and how to start your own.
But if you're thinking about taking the first step into drum circle facilitation, I've made a free mini course for you called "How To Start A Drum Circle" and it's 100% free! This online drum circle training is for those who are brand new to the world of leading drum circles.
In it you'll discover:
The secret to running "Fail-Proof" drumming circles
An easy, step by step method for leading a drum circle music making activity – including how to start, sustain and stop the group. Plus a complete video tutorial you can watch again and again for easy reference.
A proven, pre-tested script so you'll know exactly what to say when setting up the drum circle activity.
A path to immediate implementation - My goal is to prepare you to lead a beginner friendly drum circle activity right away.
Valuable tips to help shorten your path your first drum circle.
30 easy drum circle starter rhythms to get and keep your participants engaged.
Clear drumming technique tutorials to help you and your participants to sound great and keep your hands safe!
But what if you already have your own drum circle already and are looking to "level up"?
I got you covered!
Everything You Need To Create Your Own Transformational Drum Circles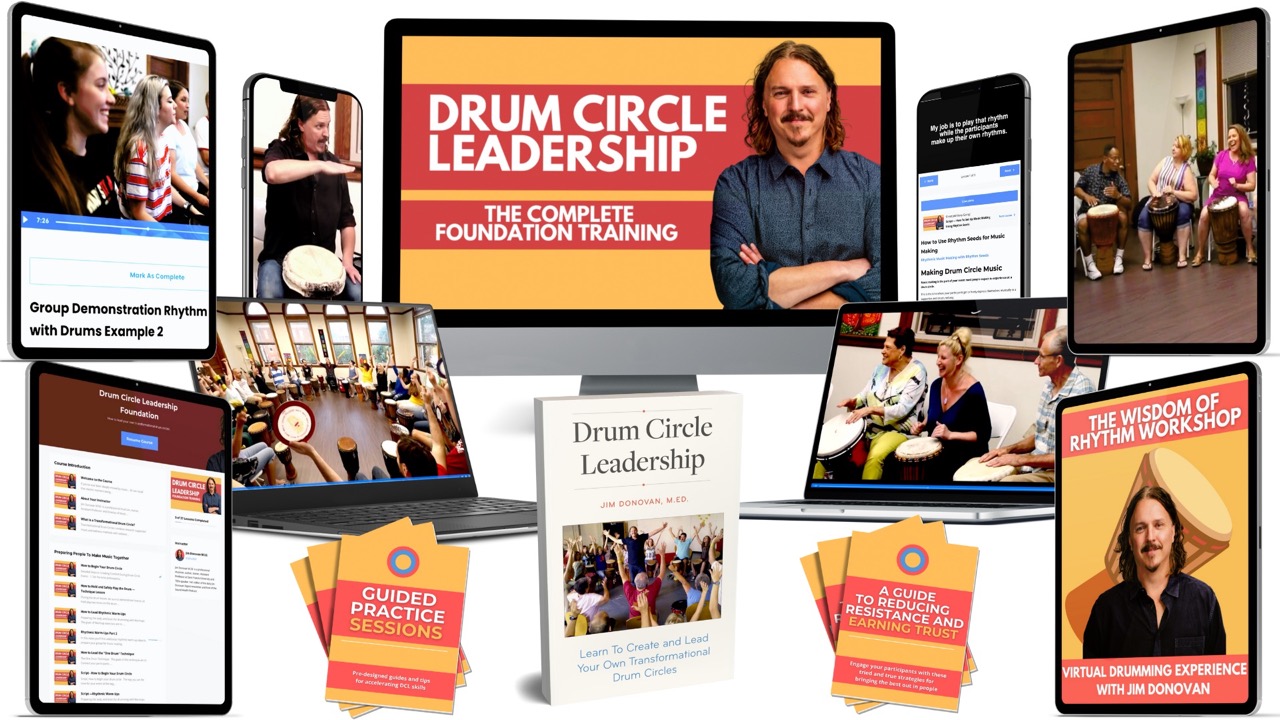 Bringing the best out in people with drumming circles is one of the great joys of my life. If you're already leading your own drum circles and are looking for new inspiration, drumming circle games, and drumming for healing exercises, then you're likely ready for the complete Drum Circle Leadership Foundation Training.
If you follow this step-by-step system, you can lift your drum circles into the the realm of "transformational".
Through drumming you'll learn how to transform stress to calmness, loneliness to connected, and repressed to expressive. The elements of this system are the same drumming activities I do with people of all ages and abilities including people with:
Autism, IDD and other mental health conditions
Substance abuse challenges
Depression, stress and anxiety
Trauma
As well as:
Veterans
Older adults
Typical populations
Here's everything you get with this fully online, on-demand drum circle training program.
Today's Takeaway
Drumming is one of the most underrated ways to keep your brain and body healthy. By learning how to create your own transformational drum circles, you play an important part in promoting wellness, quality of life and bringing people together.
We need more of that in the world.
Are you ready to play your part?
---
Gain skills for your personal and professional life
If you're serious about creating your own transformational drum circles, you'll want the Complete Drum Circle Leadership Training —Includes a personalized Certificate of Completion and everything you need to create your own transformational drum circles! Here's everything you get...
---
Jim is a professional musician, trainer, Assistant Professor and Director of Music and Wellness at Saint Francis University and TEDx speaker.
His mission is to share the healing power of music through education and performance. He specializes in placing music and wellness programs in organizations who focus on people with disabilities and people recovering from addiction.
Having presented over 3000+ rhythm and sound based programs since 1999, Donovan works internationally facilitating music and wellness events with a wide variety of populations including corporate, university, people with disabilities, and people recovering from addiction.
Additional On Demand Training Programs by Jim Donovan
Music and Mindfulness Training